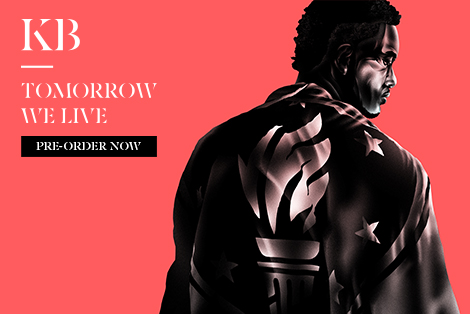 Pre-order KB's Tomorrow We Live Today!
KB's second studio album, Tomorrow We Live, is now available for pre-order! Featuring Lecrae, Mattie of For Today, Bubba Watson, and more, order today on iTunes or Amazon and recieve an instant MP3 download of KB's latest singles Sideways ft. Lecrae and Crowns & Thorns (Oceans)! All orders of KB's new merchandise will receive 25% off their purchase until April 21st! The album drops 4.21.15.
iTunes
Click here to pre-order Tomorrow We Live on iTunes.
Amazon
Click here to pre-order Tomorrow We Live on Amazon.
Google Play
Click here to pre-order Tomorrow We Live on Google Play.
Merchline
Click here to pre-order in MP3, CD or Deluxe Digital complete with instrumentals and acapellas for all 14 tracks.
Click here to pre-order Tomorrow We Live gear.
BIO
Perhaps the most influential jazz musician ever, Louis Armstrong was born to a mother who often turned to prostitution and was son to a father who abandoned him soon after he was born. Johnny Cash, the "Man in Black," was born into a family of sharecroppers and by the age of 12 was spending his days hauling heavy loads of cotton. If one inspects the formative years of artists and musicians often a common thread he would find is that early on, music appeared as the last thing on the list as an ultimate destination.
Kevin Burgess, now better known by his stage name KB, is a rapper. His latest EP 100 debuted at #1 on Billboard's Christian Album Chart, #4 on Billboard's Rap Chart and respectfully at #22 on Billboard's coveted Top 200 Album Chart. He's won a Dove Award (Nominated twice), been a Recording Academy featured artist on Grammy.com and has received critical acclaim from his peers and media such as Billboard Magazine and The Blaze. He's toured nationally with Tenth Avenue North and is scheduled to join Trip Lee for the upcoming "Rise Tour." But like so many musicians that came before him, KB, the rapper, almost never happened… READ MORE
Tracklisting
Tomorrow We Live drops 4.21.15.
Share Post